Woking, Wednesday: An emotional press conference was held at the McLaren Technology Centre today as 2008 world champion Lewis Hamilton revealed that his manager Anthony Hamilton had stepped down from the role of being his father, effective immediately.
Lewis and Anthony mutually reached the decision to no longer be father and son after each decided to focus on furthering their own careers; Anthony's burgeoning driver management business means that he may no longer be fully committed to providing paternal guidance to the McLaren driver.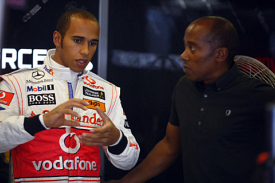 "It was a tough decision, but one that we had to make," Lewis said. "It's got to the point now where Anthony needs to start looking after his own business interests, and I need to focus on winning another world championship without worrying about the strange man wandering the paddock looking miserable.
"I'd like to thank Anthony for all the work he has done in bringing me up," Lewis added. "I'd also like to thank the team for allowing me to make this decision."
McLaren have announced their intention to fill the "paternity" role for Lewis for as long as he needs, though the driver is known to be actively seeking a new father.
Meanwhile Anthony is busy making preparations for his forays into the world of young driver management: "I've been practicing my icy stares in the mirror," he enthusiastically revealed. "I've pretty much got it sorted. Then there's the small issue of understanding contracts and getting good deals for my clients, but I'm sure I'll pick that up as I go along."
The "divorce" of the Hamiltons is not quite unprecedented in Formula One; however, rumours in the early 2000s that Michael Schumacher was planning to resign as the brother of Ralf were never confirmed.