Kuala Lumpur, Thursday: Formula One's governing body, the FIA, has today issued a harsh statement criticising fans of the McLaren team for their "mind-boggling inconsistency" following the decision to disqualify Lewis Hamilton from last week's Australian Grand Prix.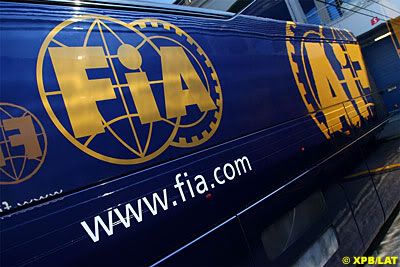 Hamilton got himself into hot water when he told stewards he had not been instructed to let Toyota's Jarno Trulli pass under the safety car in that race, despite the fact that minutes earlier he had told American broadcasters SpeedTV the exact opposite.
On reviewing radio transmissions from the Woking team, race stewards in Malaysia discovered Hamilton's deception and stripped him of his third place.
A predictable howl of anguish was heard from McLaren's fan headquarters, but the FIA has already responded, criticisng the fans for their inconsistency.
"When we threw Toyota out of qualifying for running illegal rear wings, we were just doing our job," the statement read. "And then giving Trulli a 25-second penalty was both justified and fair. But now that we've come down on Lewis Hamilton, suddenly we're monsters? It's no wonder the sport is such a joke if the fans can't be consistent in their judgement of our decisions.
"The persistent and unfair meddling of McLaren fans in the affairs of Formula One long after the events have finished is ruining our once-great sport," the FIA complained. "Why can't we just watch a race, let it finish, fiddle with the results a bit and have done with it all? There's no need for all of this grief afterwards."
McLaren fans have a long history of controversial reactions to decisions, with whisperings of an institutional "pro-McLaren bias" within the team's official fan club long being heard, but never being officially acknowledged.
The FIA is understood to have launched an online petition, aimed at convincing the McLaren fans to "reconsider their decision" and join them in condemning the dishonesty of Hamilton and his team.