Grove, Wednesday: Frank Williams, the owner of the Formula One team of the same name, has denied that his team's remarkable new colour scheme has anything to do with raising environmental awareness, upon revealing that the British team will run in a green livery for the 2009 season.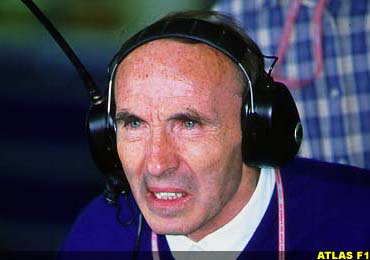 At the moment, Williams are operating with a dark blue colour scheme, which has often been used by the team in pre-season testing before reverting to a more traditional blue-and-white livery at the opening race of the season. Apart from a couple of regrettable years in the late 1990s, Williams have fielded blue and white cars for many years, thanks to associations with Rothmans cigarettes, BMW and most recently, the Royal Bank of Scotland.
"No, it's nothing to do with the environment," Mr. Williams told journalists outside the team's factory in Grove. "There's none of that Honda hippie stuff here; we're trying to race very expensive and gas-guzzling cars at racetracks in far-off corners of the globe – how on earth is painting our car green going to make any difference to the environment? It's not as if it's going to be photosynthesising or anything."
Williams then revealed that the green colour of the car – specifically, British racing green – was actually in deference to one of the team's sponsors.
"Seeing as how RBS has been nationalised, we decided that as a token of goodwill to the British taxpayers – who are, essentially, funding our team for this season – we would paint our car in the national racing livery."
The news has already created political tensions in Parliament: Conservative leader David Cameron branded RBS's sponsorship of Williams "a scandalous waste of money" and got a bit red in the face. In keeping with the party line, however, he failed to outline any policies to deal with the situation should he come to power.