Silverstone, Tuesday: The 2009 car produced by the Force India Formula One team has already been slammed by critics as "patriotism gone too far," days before the challenger is even officially launched at the team's Northamptonshire base this weekend.
Early leaks from the team factory suggest that, in a radical new interpretation of the 2009 technical regulations, Force India have managed to produce a car that is fairly similar in shape to the country of India itself. Some have speculated that these plans may be illegal under the 2009 technical regulations, but Force India boss Vijay Mallya – speaking privately to one of our sources – dismissed these claims.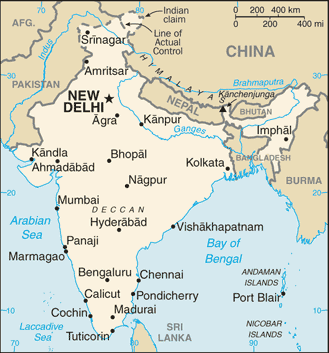 "India is a nice, aerodynamically streamlined country," Mallya said. "Obviously it's quite wide in the north, then it sort of gets all pointy towards the south, which means that it is pretty much an optimal shape for airflow. We are confident that the 2009 car is within the spirit and the letter of the Technical Regulations, and look forward to seeing how it fares in competition."
Rumours that technical director Mike Gascoyne was dismissed last year because "he couldn't get the Madras coast right" have yet to be confirmed but have been substantiated by a number of sources.
This is not the first time an F1 car has assumed unorthodox proportions for marketing purposes – Ligier built a car in the 1970s shaped like a giant teapot as an advertisement for title sponsors PG Tips. Rumours were abundant in 2003 that Ferrari were planning to circumvent the tobacco advertising ban by producing a car in the shape of a giant packet of cigarettes, though the FIA is believed to have declared the design illegal. And as recently as 2007, Honda considered producing an "Earth car" that was actually shaped like the Earth, though it fared quite poorly in wind tunnel testing (even compared to the car they eventually did use in 2007).
Drivers Giancarlo Fisichella and Adrian Sutil, who will be piloting the Mercedes-powered vehicles for the new season, were unavailable for comment, though Fisichella is said to be "very 'appy" with the new designs.