Canberra, Saturday: The Australian postal service has been forced to recall hundreds of commemorative stamps issued to celebrate Mark Webber's first Formula One victory, after they were found to contain an obscene phrase.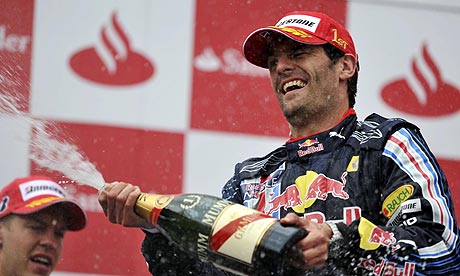 The postage stamps, which depicted Webber's Red Bull Racing car crossing the finish line at the Nurburgring, were captioned with the phrase "F***IN' BEAUTY!", in homage to the Australian's emotional reaction to winning the race over the pit-to-car radio. After hundreds of books of the stamps were sent out to post offices across the country, the expletive was discovered and the Post Office forced to make an embarrassing recall announcement.
"Unfortunately nobody bothered to check what the caption was before the stamps were printed," a spokesman for the postal service explained. "One of our junior staffers was asked to caption the picture with a suitable phrase to capture the emotion of the moment, and it is regrettable that he chose to use Webber's exact words upon winning the race.
"With hindsight, we probably should have been more careful, especially given Mark's record," the spokesman confessed. This last comment is believed to refer to the Australian star's Facebook page, where he lists his hobbies as "running, cycling, swimming and swearing on live television."
The original set of stamps are expected to be destroyed when they are returned to the Post Office, so surviving specimens will begin to accumulate huge value in the stamp-collecting world. Our Australian correspondent asked a bearded man in an anorak for his opinion on the situation, though on closer inspection he turned out to be Rolf Harris rather than a stamp collector.
Webber said he was heartened by the decision to commemorate his achievement with a special stamp, but dismayed that the error had been allowed to be made. "It's a f***ing shame," the Australian told Channel Ten's evening news programme.