Thanks to the Sky F1 folk, Badger took part in a Q&A session with some of the new line up, namely Martin Brundle, David Croft and (super)Ted Kravitz to learn more about their plans for the 2012 F1 coverage.  It's clear that they're all chuffed to be Sky and very happy to have "their own channel" for Formula 1.   Many finer details are yet to be confirmed, but read on to learn more…
Martin sounded like an excitable child, telling us about the energy and resources at Sky, along with their determination to make something as good as it can be.  In fact, David Croft said that arriving at Sky for the announcement was akin to the first day of school – seeing some friendly faces and some new faces with all the buzz and anticipation of something new.  Martin explained why he thinks it's good for both the BBC and Sky to share the 2012 coverage and how it will benefit F1 fans.
"It's great for F1 and the fans to have this competition between two heavyweight broadcasters – as an F1 fan, I'm excited myself"- Martin Brundle
They explained that whenever there's a green light on the pit lane, Sky will be covering it ans that whatever is going in F1, Sky will cover it.  For example, pre-season testing in Barcelona, Sky will be there – not necessarily broadcasting live (maybe, but testing is 9-5!).  Ted Kravitz explained how the Sky plans are a step forward;
"If I could make an F1 channel, this is what it would be.  Loads of ideas and I'm convinced we're going to make a compelling and quality product that will go further in-depth than before – There are 24 stories out there, with all the drivers and teams and we'll be able to cover the lot, along with the politics and the glamour.  We'll have more time than ever before for the technical features that I love too.  It will be the complete picture." – Ted Kravitz
Brundle explained how Sky wil be covering "anything and everything F1 – they will be at all the testing and for GPs, they'll be there from the Tuesday.  GP2 will be around that too along with other exciting things in the paddock.  Sky will use anything and everything to maximise their F1 opportunity."  We pressed further for information about GP2 and the other support races, but nothing has been confirmed yet, although it's clear that GP2 will not be ignored.
Crofty informed us that there will be a "big preview programme" ahead of the season, which will include what all the teams have been up to and of course, include footage and news from all the winter testing.
As part of the new channel, there's going to be a new F1 magazine programme with Georgie Thompson and Ted Kravitz, where they'll cover all the other goings on in Formula 1.  Ted explained how it's something he's always wanted to do, it was talked about as long as as when he was at ITV, but, as with the BBC, there just wasn't the time to do it.  This is really exciting for F1 fans, because, like with Badger where we like to make a big deal out of some of the off-track malarkey, Sky will be there covering it too.  All those great pictures such as Webber riding a camel in Abu Dhabi – yes it's a great picture, but the Sky F1 HD channel will be bringing the footage, Ted and Georgie will be there.  We're very excited by this if you can't tell.  Ted also informed us that the magazine programme will feature an interview with Bobby K "We'll find some time with Robert Kubica before anyone else."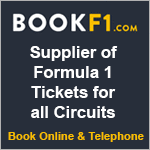 From all the tweets about Sky F1, one question that comes up is about the theme tune and whether Sky will have Fleetwood Mac's "The Chain" or not – now, Brundle and co couldn't confirm one way or another, but it does sound like Sky are considering alternatives, Brundle joked "with all the drivers moving about I think the Magic Roundabout would work quite well".
Fact – F1 fans love data and Sky is well aware of this – as a result, although details are yet to be finalised, the coverage will feature the ability to look at data during the race, and for those that want to, they can drill-down and enjoy a wealth of information, as well as onboard cameras and the like.  The BBC used to switch to the 'Red Button' for the Forum after the race, whereas the Sky coverage will just keep running – it's great to know that there will be efforts made to cover the entire grid too, Ted and co seemed rightly pleased about that.
With all the additional resource and time, we had to press for more details re other innovations Sky is looking to bring to F1 coverage – although much is to be sorted out as yet, Brundle did say that there will be a lot more graphics and technology, and time to use it for the post-race analysis – the mind boggles at what this could be…  Crofty explained that for the commentary, they'll have more info than ever before and so there will be less speculation, more fact – which can only be good thing.
On the topic of commentary, David Croft will take the lead commentary role, with Martin concentrating on the strategy and such like, as he did back in the ITV days with James Allen.  Martin's very happy with this and loves that he'll be able to get more time to get involved with what he loves – we can expect more of a grid walk too, with Sky being on the grid earlier and for longer than before.  Ted explained that often, in 2011 and before, they'd have people and cameras on the grid, but be showing a pre-recorded video clip because that was schedule – it definitely comes across that the new Sky line-up are pleased with the extra time they'll have.
"It was always frustrating previously – having spent loads of money on a feature involving me driving an F1 car, but ot only having it shown in four 2.5min sessions – not particular cost-effective and I had so much more to cover."  Brundle
Overall, the new Sky channel was only properly announced a month ago and so there's plenty to be done between now and March 2012 and more details will be confirmed in the new year.
Badger will be bringing you all the details and we'll be visiting Sky in the new year to get a behind the scenes look at their plans and ideas too, so look out for that.
In the meantime, here's some answers to those common questions about the 2012 coverage on Sky.
Learn more about Natalie Pinkham on her website here and also Georgie Thompson via her Sky profile here.
Sky Formula 1 HD – FAQs – The Facts:

No adverts during the race – Brundle wouldn't stand for it!
The channel will be available via Sky's SkyGo service too
Plenty of indepth stats, telemetry and the like will be available
Onboard cameras accessible via their 'red button' in-race
You don't need Sky Sports, as long as you have Sky HD you'll be ok.
Every practice session, qualifying and grand prix will be live
Plenty of archive footage will be screened
Interviews with legends of the sport (Steve Rider's bit)
Unclear whether it will be available via Virgin Media / BTVision as yet
See Sky's FAQ for more such quick facts.