Maranello, Monday: Former world champion and Ferrari driver Kimi Raikkonen has finally admitted that his disappointing 2008 season was due to an outdated computer system, which hindered his progress in his world title defence.
Many Grand Prix drivers use F1 simulation games on top-of-the-line consoles such as the Sony PlayStation 3 to learn the racetracks prior to visiting the circuits in real life. Jacques Villeneuve famously attributed his 1997 world championship to religiously playing PlayStation games, and Ron Dennis once suggested that Lewis Hamilton and Fernando Alonso also played computer games together before falling out with each other in 2007.
It seems, however, that Raikkonen's foray into the electronic world of motor racing was doomed to failure from the start, given that his platform of choice was the PC and the game was Geoff Crammond's Grand Prix 2.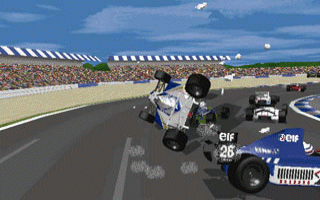 While GP2 was revolutionary in its day, for its state-of-the-art 3D graphics and realistic simulation, the game was released in 1996, and intended to simulate the 1994 Formula One season. "Most of the tracks have changed a bit since then, and some of them are altogether new," a Ferrari spokesman said at the launch of the Italian team's 2009 car. "We think that Kimi was learning the tracks on the c0mputer, then arriving at the circuit only to find that they had changed beyond recognition.
"Some of the tracks where Kimi did well, like Barcelona and Magny-Cours, have been slowed down since 1994; Kimi was actually following the circuit as it was in those days, rather than as it is now. That explains why he was unbeatable some of the time, and rubbish pretty much everywhere else."
Some sources have suggested that Raikkonen may be able to upgrade to Grand Prix 4, which simulates more of the modern F1 tracks than its predecessor, but the Ferrari spokesman dismissed this, saying "Unfortunately GP4 is too advanced to run on Kimi's PC. As far as we know, it's too advanced to run on anybody's PC."
Raikkonen himself offered a bemused grunt as a comment on the situation.