Maranello, Tuesday: Sources within the Ferrari F1 team have indicated that Michael Schumacher's role within the team will be reconsidered when his contract expires at the end of this season.
Although occasionally participating in pre-season testing with the Scuderia, the seven-time world champion has been employed for the most part as the team's tea boy since his retirement in 2006, but a Ferrari insider exclusively told The Runoff Area that Schumacher is looking for something with more of a challenge to it if he is to consider re-signing for the Italian squad at the end of the year.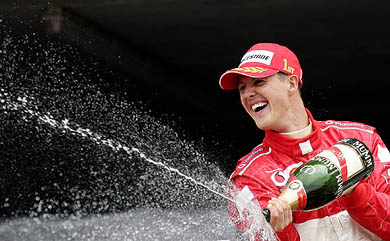 "Making tea has just become too much of a habit f0r Michael to take it seriously anymore," our source explained. "Day in, day out, it's making cup of tea after cup of tea, faster and better than anybody's ever done it before. It's just not a challenge for him anymore."
The insider revealed that Schumacher could be persuaded to take on a job creating and delivering "a wider range" of beverages, including coffee, hot chocolate and orange juice for Felipe Massa – reportedly because "Felipe is advised to stay away from the stronger stuff, we gave him a Nescafe before Silverstone and he couldn't keep the car on the track."
Ferrari are not expected to make an official announcement on Schumacher's new direction in the team until later in the year.