Silverstone, Friday: Redevelopments at the Silverstone circuit have run into trouble in recent days, after the British Racing Drivers' Club realised that their new pit and paddock complex was being built in the wrong place.
The new facility, set to open in 2011, was set to be constructed in the area around Bridge corner, before someone at the circuit pointed out that this part of the track is to be bypassed by most international events since the opening of the new "Arena circuit" layout earlier this year.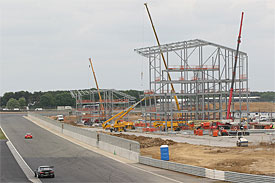 Progress on the new complex is already going well, with foundations being laid and the pit wall having already been completed. The realisation that all of this is in the wrong place is sure to be a blow to Silverstone's ambitions.
It has not yet been explained how such a catastrophic error could have happened, though the BRDC lounge's traditional cocktail (a measure of gin combined with a tenuous grasp of reality) may have played its part in the debacle.
"Oh, bugger," said BRDC President Damon Hill when informed of the news. "Clearly we will have to begin rectifying this issue right away. I fully intend to spend the next ten years drawing up spurious plans for how this problem will be solved."
In other news, there was cause for slight celebration at Silverstone after the Northamptonshire circuit installed its first flushing toilet. Plans are already underway to connect the track's buildings to the National Grid, the BRDC having acknowledged that the previous method of self-generated power was not cost-effective. "Oiling the hamster's wheel every day was a time-consuming and costly activity," Hill revealed.