Belgrade, Saturday: Prospective F1 team principal Zoran Stefanovic has dismissed rumours spread this week that he is actually Flavio Briatore in disguise.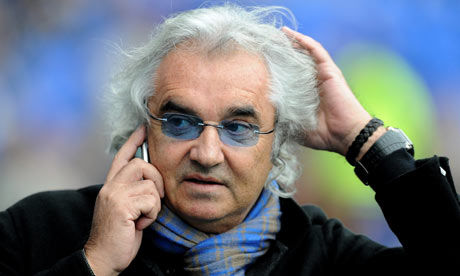 The Serbian, whose government is supporting his "Stefan Grand Prix" effort, has been linked in recent days with a buyout of the withdrawing Toyota team, and admitted that his outfit were still intent on getting onto the Formula One grid in 2010. However, he denied the "scurrilous rumours" linking him to disgraced ex-F1 figure Briatore.
Conspiracy theories emerged this week, with proponents pointing out a number of "discrepancies" indicating that "Stefanovic" could simply be a ploy by Briatore to work his way back into F1's inner circle, after he was handed a lifetime ban by the FIA in September.
"Firstly, Mr. Briatore and Mr. Stefanovic both have murky business histories, where they somehow made a fortune in a way that is not at all clear," one leading proponent of the theory pointed out on an Internet forum yesterday. "Secondly, both have a history of failing to curry favour with the FIA," referring to Stefanovic's lawsuit against the governing body for their selection process when compiling the 2010 entry list, and Briatore's belief that he could instruct drivers to deliberately crash their cars and get away with it.
"Thirdly, and this is very important, why do you never see Mr. Briatore and Mr. Stefanovic in the same room? The only explanation is that they are the same person," the theorist continued. The alternative possibility, that Briatore and Stefanovic have simply never met, was dismissed as "unworkable."
Stefanovic, however, was scathing about the rumours, suggesting they were "imperialist lies disseminated to prevent full glory from reaching great nation of Serbia and Stefan Grand Prix. Min."