Stuttgart, Thursday: Mercedes have announced that Toyota F1 driver Jarno Trulli will begin a new role with them in 2010, after the Italian failed to reach a contract settlement with his current employers.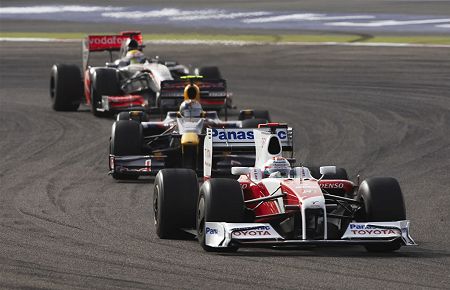 Trulli, who has driven in F1 since 1997, has been linked with a number of seats for next year, but Mercedes today declared that they had secured the driver's services for 2010 and beyond.
"We are very pleased to announce that Jarno will be driving the Safety Car next year," Mercedes director of motorsport Norbert Haug told gathered journalists. "Our present driver Bernd Maylander has indicated his desire to move on after this season, so the hunt for a new safety car driver began a few weeks ago.
"After assessing all the possible candidates, it was quickly evident that Jarno was the best person for the job."
The qualities possessed by Trulli, believed to be high on the wish list of potential Safety Car drivers, are said to include the ability to circulate around a track several times, leading a chain of obviously faster cars that are somehow unable to overtake him. "Jarno's experience in this field is ideal for a transfer to the Safety Car," Haug added.
Plans for Trulli to drive a Safety Car designed in a style close to that of an F1 car, in order to fully replicate the circumstances in which his antics have previously been demonstrated, have reportedly been abandoned after failing to meet the FIA's safety criteria.
It was reported last week that Mercedes were considering Luca Badoer for the Safety Car role on account of his extreme slowness, but Haug dismissed this possibility in this morning's press conference: "We wanted someone who had experience of leading a race."
Immediately after the press conference, Flavio Briatore was seen sneaking into the Mercedes headquarters carrying a large briefcase, though all parties were quick to deny the significance of this event.